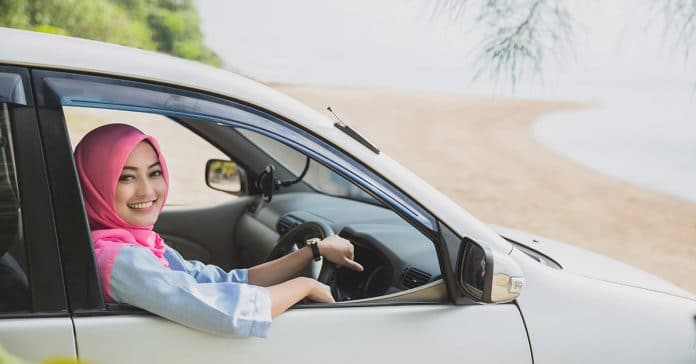 Nothing beats the excitement of travelling but one can also not underestimate the power of good tips. So after almost 5 years of travelling as a hijabi, here are my 5 favorite tips for travelling in hijab, some of which I learnt from experience and others were offered by friends that I made along the way.
Be Prepared for Anything on the Way
As a travelling hijabi, you're always getting attention because you stick out from the crowd. At times this attention will be good, at other times, not so much. Some typical examples of the negative reactions include intimidating stares, rude behaviour or unwanted comments.
The best way to deal with this is to simply ignore such people and go on with your awesome life. Every time I get mad at such an ignorant person, I deal with the anger by praying to God for his or her guidance and I feel like it really helps me.
There are lots of great people around us though who we can rely on for help, so don't let a few negative people put you off. Coming towards the good kind of attention, I've realised that I get so much more respect when travelling, by both men and women, as compared to non-hijabi women.
Other great moments include the heartfelt compliments about my hijab, curious conversations with non-Muslim sisters and words of encouragement by random strangers, this special treatment of course feels great as eventually you start to love standing out.
Make Smart Packing Choices to Travel Light
If you were travelling to several different places, you would obviously not want to carry lots of luggage around the airport or on the trains. Unfortunately, as women, we're kind of 'programmed' to keep things we don't need, 'just in case' we might need them. It takes years of practice to let go of this habit and understand that the heavy suitcases only limit your possibilities.
So, one of the first things to do when planning a trip, would be to invest in a good quality suitcase and opt for versatile outfit pieces that can be used in different, but modest ways. Instead of investing in a number of cheap hijabs, invest in just a few good quality ones and that too in colours or prints that will go with any outfit.
You also need the talent to mix and match pieces to create different outfit combinations while using the same pieces. Most importantly, when packing your hijabs, always roll them instead of folding as this way they take up much less space and also do not get wrinkled.
Make Good Use of the Sisterhood of the Hijab
There's nothing more real than the sisterhood and brotherhood in Islam and this especially applies to hijabi sisters. No matter where in the world I am, every time I see a sister in hijab, a nod and a smile are like simple reflex actions. It's always good to make use of this sisterhood and if the other hijabi is also travelling, you can share the experience together to make it so much more special.
Or if she's a local, that's even better because she can let you in on so many secrets about the place and spots worth checking out that you would never be able to find out about otherwise. The help that fellow hijabis can give you is simply unmatched so never miss the chance to avail it.
Do Your Homework Before You Set Off
Third party sites like TripAdvisor are great for getting bookings at great rates but if you aren't interested in booking through them, you can still find tons of great information there in the form of reviews. So before planning any trip, make sure that you go through as many reviews as possible. This will prove useful especially if you like to stay in Muslim-friendly neighbourhoods and hotels.
Another thing to research about is the local customs as you must always respect them. Being a hijabi, I like to follow the motto that if I want people to respect my decisions, I must respect theirs too. So if there are any places where the culture or the law doesn't allow you to go, respect it and take that place off your bucket list, for example, despite my great desire, I've never visited a Buddhist temple as it isn't acceptable to enter them with a covered head.
Share Your Experiences with Fellow Travellers
Unfortunately, there are not many hijabi travellers around right now and if there are, they are probably not maintaining a good online presence. I've personally come across a number of hijabis who love travelling, but are either too afraid or too shy (or both) to go out and explore the world, which is why they need encouragement from you.
Sharing the tips you learn and the knowledge you gain from travelling is of utmost importance – make notes and take lots of pictures during your trip as even the tiniest details could be of great help to another travelling hijabi. Happy travelling! 🙂
---
Contributor: Sarah Ghanem
Sarah is a keen traveller always eager to discover and rediscover the beauty of the world. She tries to stay productive wherever she goes. Ever since she turned her passion into a profession, she's been a proud stylist and fashion consultant at Modanisa where she happily shares her ideas for diverse modest styles.
---
SaveSave
SaveSave