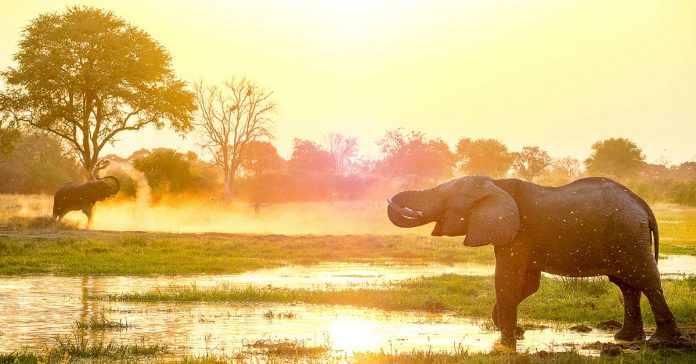 When a resolute young fellow steps up to the great bully, the World, and takes him boldly by the beard, he is often surprised to find it comes off in his hand, and that it was only tied on to scare away the timid adventurers…   – Ralph Waldo Emerson
"You need to be very careful camping on the River tonight, Mr. Ross. You're the only one."
"OK!? I've been camping in Africa for months, how dangerous could it be??"
"There are a pair of lions that live here on the Chobe. They killed an elephant 1km upstream of your campsite, two nights ago… Last night, they visited a couple in their campervan and gave them a big fright. Do you have a rooftop tent?"
I glanced outside at my tiny Suzuki Samurai, passionately named 'Little Red' – one of the toughest four-wheel drives on the planet, though not one afforded of many of its larger competitors' luxuries, or space.
"No", I grinned. "I do have a little ground tent, though."
The two Park Rangers looked at each other, then back at me. I saw concern in their eyes. "Don't leave your tent after dark, then, whatever you do…".
Be as Curious as the Cat
Despite planting a seed of reluctance in me early that bright African afternoon, I steeled myself as I walked to my car, hopped in and drove down the sandy track to the campsite. There, I went about my practiced routine… I scanned the area for hazards – dangerous game tracks, burrows or long grass hiding any critters, snakes – then folded out my solar panel to charge flat batteries, set up my tent, refueled the car and prepared my camera equipment for an afternoon game drive.
Curiosity about how two lions could bring an elephant down quickly got the better of me though, so I inhaled a late lunch and sent my truck back along the rutted riverside path toward this fearsome pair. I'd been in Africa for 9 months, having completed my 3-month Nature Guide assessment in South Africa and thereafter hitching rides north on crammed local transport through Mozambique, Malawi, and Tanzania. After summiting Mount Kilimanjaro, going on paid safari and relaxing on the pure white sand beaches of Zanzibar with friends, I realized the only way I would see animals without paying for another safari would be to self-drive Africa… So I flew to Namibia, searched for and bought my truck and, with a map I found in a rolled-over rental outside town (I forgot to buy one), made a plan to tour Africa for however long I could afford to stay.
Up until then, I had camped most of my trip, though that had been in fenced campsites or areas where there was no dangerous game. I was about to find out what it was like to wild camp Africa, to sleep with the animals… and it was to be far more intimidating than anything I'd experienced to date.
Starting from Swakopmund, I planned to cover first southern, then northern Namibia, crossing into Botswana, Zimbabwe, Zambia, Lesotho, Swaziland and anywhere else my heart desired. My first 3 weeks of self-driving in Namibia I camped in places where the dangerous game could not come near me. The moment I crossed into Botswana, however, everything changed. Fenced camps there are virtually unknown – and this particular night, with lions and their elephant kill nearby, was to be my first.
As I rounded the corner of a track to where I thought the lions would be, I was greeted by vultures weighing down every tree limb for 200 meters around me. They were here, somewhere. There, to my 3 o'clock, was an almost-fully-grown, party decayed elephant bull, brought to its untimely demise by what must surely be two goliath lions. I drove around for another 20 minutes before I found one of them – a blonde-maned, scarred and almost-toothless old male. Of all his teeth he only had his 4 canines left, and those could barely be considered weapons. But, this aging bully and his brother were obviously so well trained in the arts of war that they knew how to subdue an animal 20 times their combined weight! I watched him panting in the shade of a mopane thicket for over an hour as the sun neared the horizon – he looked like he wasn't going to move any time soon, either, and why would he!? Dinner was sorted for days! So as I left to return to camp at sunset, I knew, for now, where at least one of them was.
Be Prepared
Fast forward 18 months, and I now reflect on that story as one of a hundred similar close encounters during my travels through Africa, and North America and Australia since. Funny thing is, I had waaay hairier nights. That night, the lions roared every half-hour from sunset through to sunrise – a sound that vibrates right through you, from 5km away. I could tell from the loudening of their roars that they were moving towards my camp, for a while, but later in the night their roars lessened and I knew they'd decided against visiting me after all… phew.
For the next 7 months I had all manner of animals around my tent each night – hippos, elephant, rhino, leopard, lion, hyena, you name it. One lion lay down outside my tent during the night, so close I could hear him breathing; others came for coffee at sunrise. Giant African bullfrogs leaped at me from wheel track puddles; I had scorpions crawl over my bare feet, and puff adders in my camp; I ran out of fuel, had several debilitating mechanical challenges, and was at times stranded in the middle of nowhere for days with only sinewy sticks of biltong to chew on.
I had some seriously raw experiences; though, in all honesty, I felt alive, and completely safe through most of them. Apart from my nightly encounters, I had enchanting moments on a daily basis, too. From spending countless hours with African painted dogs, cheetahs, and playful meerkats, to navigating the oldest sand dunes in the world and taking clichéd African sunset pics with elephants and giraffe in the foreground, I tasted the REAL African experience. And it is like you hear in the books and magazines and Nat Geo, those sources that inspire us – it's seriously magical.
Regardless of those hairier experiences, I grew, loved every moment, relished in every turn in the road and sun rising above the horizon. I had traveled to Africa, slept in the wild and confronted countless fears, and I survived. I was finally understanding what living was all about; and now, I'm ready for anything…
Learn Something New Every Day
Every one of those experiences taught me something I can be grateful for today… Some, at the time, wasn't ideal, though in hindsight I dealt with every situation as I should've at the time, and reflect on each as a learning experience. From the scorpions I learned to always wear closed shoes, no doubt saving me from numerous other injuries! The bullfrogs taught me to check muddy wheel ruts for anything living in them before I drove through them (for both our benefits!), the animals in camp to "sleep with one eye open", and the mechanical hiccups to always have plenty of extra food, water, fuel and tools handy for every possible eventuation.
Some of those situations I couldn't influence, no matter what I did. I couldn't deter animals from walking through my camp at night. I could only follow a scout's motto and be prepared for any situation, whether mechanical issues, close encounters with unfriendly animals or extreme weather. And I believe, or I've learned, that that's how we should all look at life and where we hope it will take us… You can't always prepare for the worst or the daily dangers of life. Many people all over the world live with life-threatening situations every day; yet others, the lucky ones with clean water and closed living spaces, take for granted our incredible opportunities. But everyone has fears, and anyone can face those fears – and better them.
So we learn, we grow, and we get better at besting our fears. Every. Damn. Day.
Trust in YOU
So, what if I'd listened to those Park Rangers who saw me as just another naïve tourist? What if I'd listened to the concerned objections of my parents, family, and friends, even complete strangers prior to flying to Africa on a one-way ticket!?!? I hate to think what I'd be doing now if I did.
While the intentions behind those voiced concerns are often to scare us, to deter us from the path we've chosen and deemed right for us – triggered by others' own fears, and often terribly misinformed – you need to harness them and use them for your own good. Use them to steel your resolve, to justify your choices of why and where and when.
If I'd listened to the advice of others I wouldn't now have a decade of overseas travel under my belt, and many of my greatest dreams fulfilled. Those voices had me seriously doubting myself at the time though; they made me hesitate. But while I respect, and take heed of, others' opinions regarding world travel, I've learned that if I do my research and I'm happy with my plan, however loose it might be, to just do it.
My advice? Follow your gut, leap across the gap, wave your goodbyes. They're not forever if you play it clever.
And, GO!
In every direction we walk, sail or fly, we're bound to encounter good days and bad. The important part is to be well-prepared, so that whatever you face you can do so standing tall – before and after the event. Being fearless is not what I'm suggesting. To be fearless is to be careless, and that's truly dangerous. Fear is important, a necessary evil that gives us boundaries and teaches us respect. From there we can determine how we might conquer our fears, and do so on our own terms.
If you're a budding or soon-to-be traveler, there are a few things you need to do straight up:
1) Be clear WHY you want to travel – whatever the reason/s, make sure they're yours and that you can make something out of it for the long term.
2) Knowing why leads directly to the WHERE – cultures, food, party, life experience, nature, adventure – whatever you seek defines where you will go… this is the time to do your largest chunk of homework, too, from booking outbound flights to arranging leave from school/university/work, and breaking the news to your loved ones (stay strong!!).
3) Once you've sorted your where, you can work on the remainder: WHEN, making sure you align the right seasons, weather, festivals etc. > WHO, whether you choose to go solo, or invite or join friends or family (choose wisely here) > HOW, in terms of local transport types, accommodation, event tickets, and finer details like vaccinations, visas, current passport, currencies, volunteer or exchange programs… you get the picture.
But whatever you do, do it for YOU. Good luck!!
To finish I'll leave you with a quote I've come to love… even if I didn't follow it at first:
Inaction breeds doubt and fear. Action breeds confidence and courage. If you want to conquer fear, do not sit home and think about it. Go out and get busy. – Dale Carnegie

 
---
Contributor: Shane Ross
Shane was raised in remote northern Australia, with an insatiable lust for spending time outdoors and embracing traditional cultures spurred from a young age. He has since worked across Australia as an Environmental Advisor, traveled the world and also lived in Africa and North America; and is now a freelance photographer, writer and nature guide.
He returns to Africa in July 2017 – you can follow his journey via Instagram, Facebook, YouTube, and his travel blog.
---